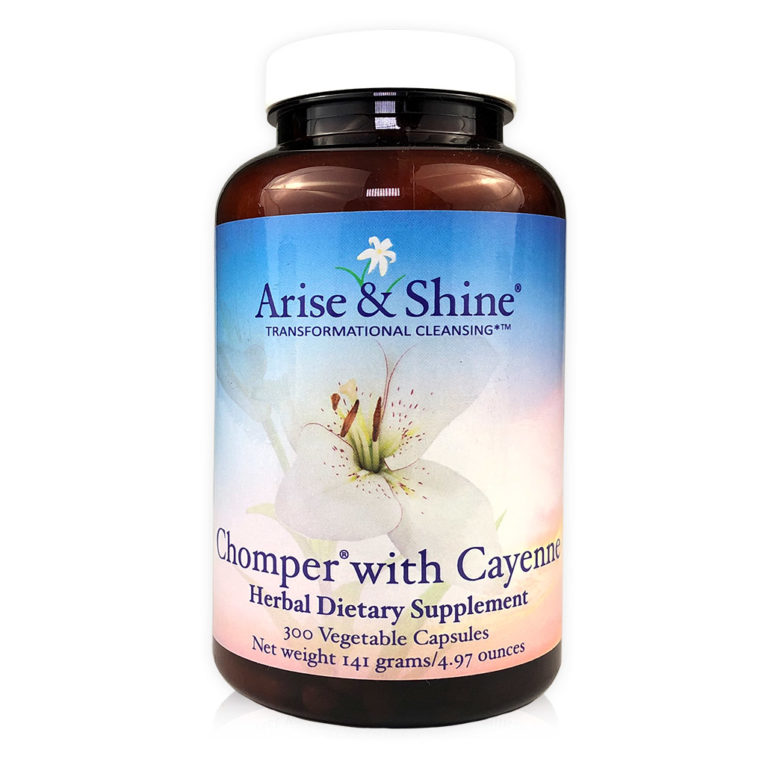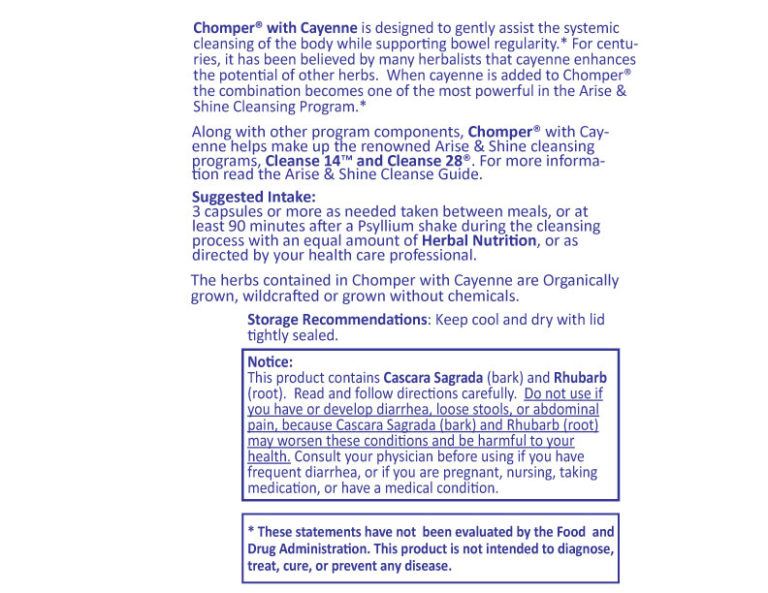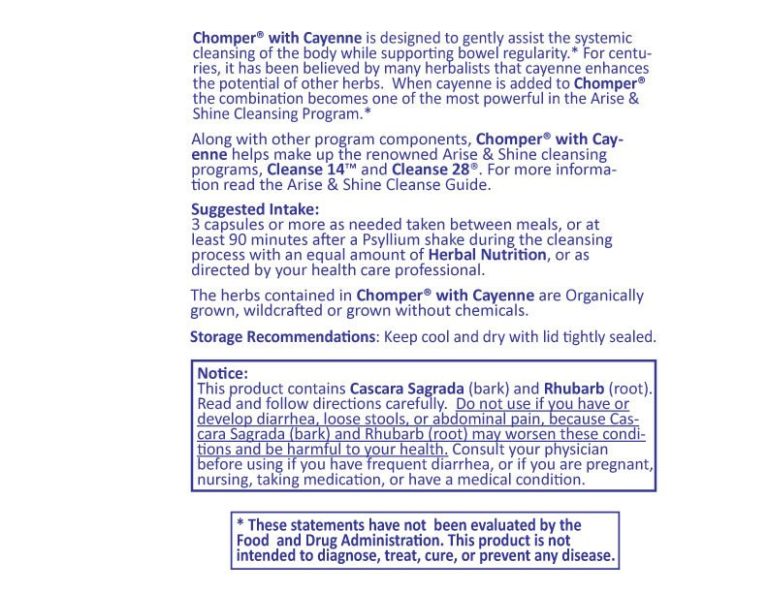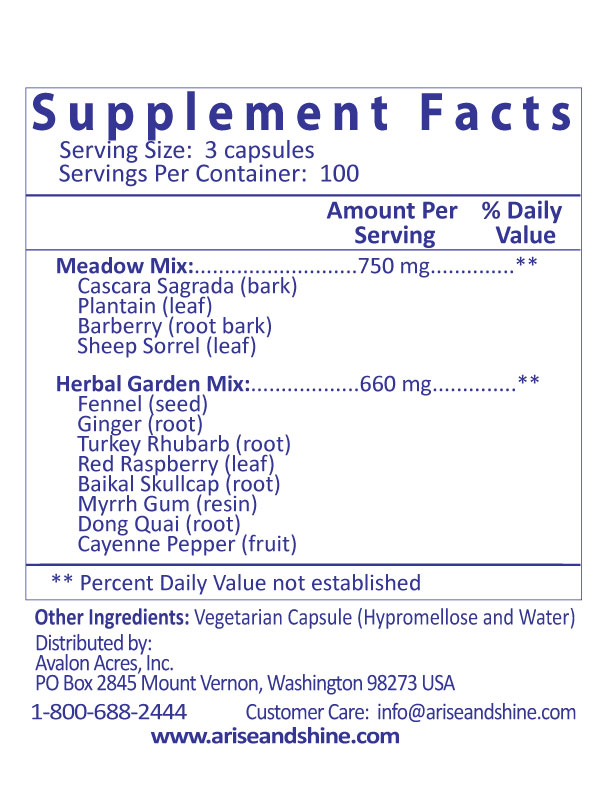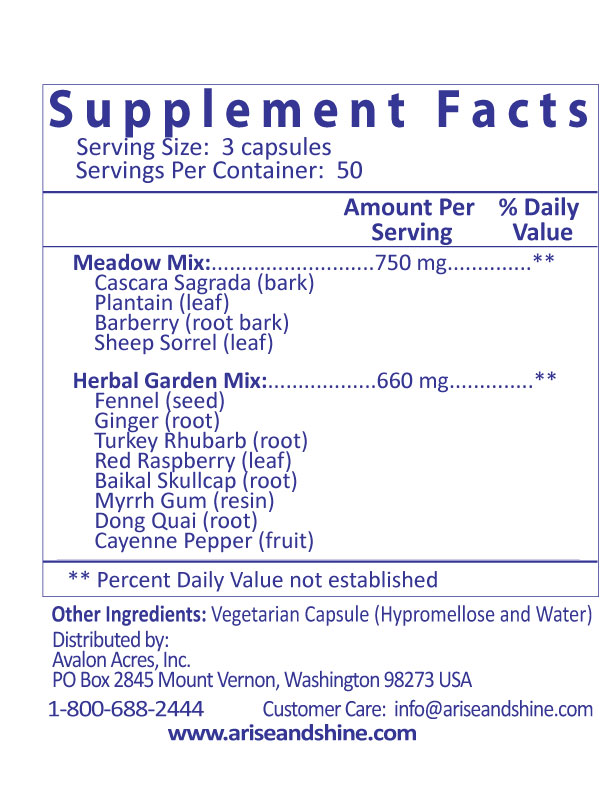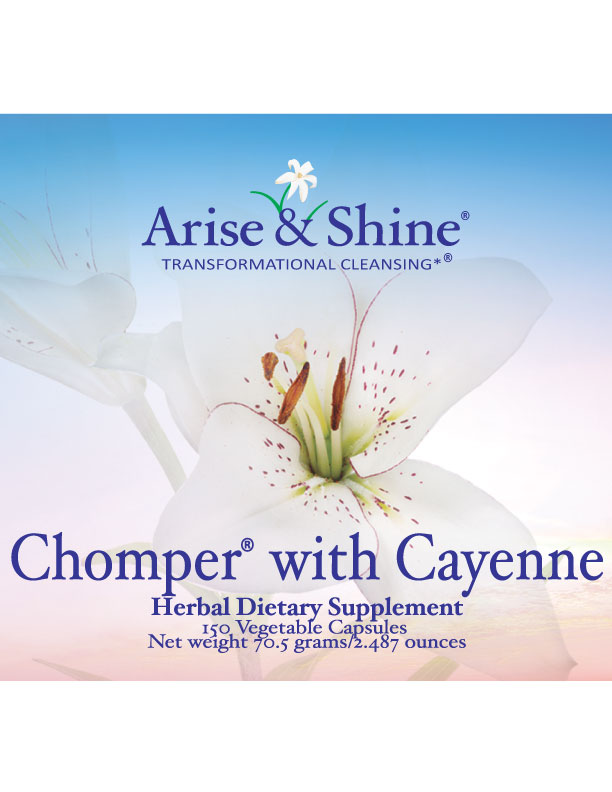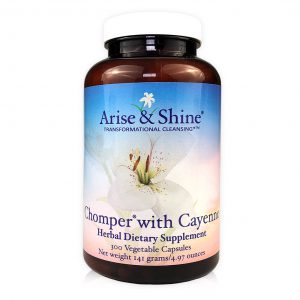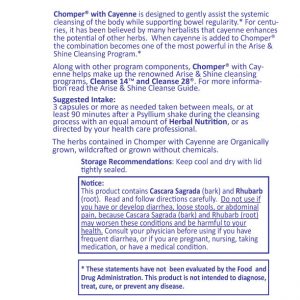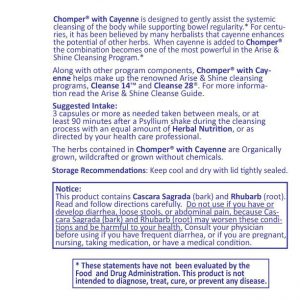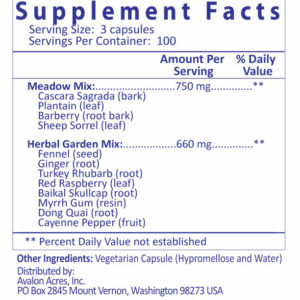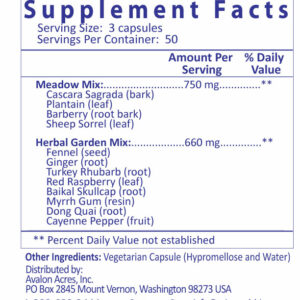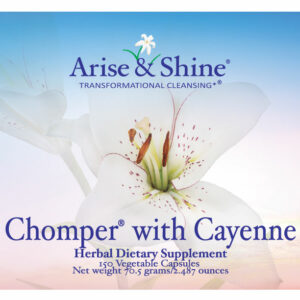 Chomper with Cayenne
Arise & Shine's formula for removing mucoid plaque from the intestinal tract.
(Currently out of stock)
$33.00 – $62.00
More Info About
Chomper with Cayenne
Note: Chomper with Cayenne 300 and 120 Capsule Count are temporarily out of stock. The 120 capsule count size is being replaced with 150 Capsules. Supply chain issues have delayed arrival but it is coming soon.
Arise and Shine's power packed cleansing and detox formula Chomper with Cayenne assists in removing mucus, toxic accumulations, and the expulsion of mucoid plaque. Cayenne was included the original Chomper formula. It was removed as some people experienced some discomfort and burning sensation.
Many Customers prefer Chomper with Cayenne
Over time we have observed that close to half of our customers prefer Chomper with Cayenne over what we now call Original Chomper. While some feel that the cayenne makes it more effective than plain Chomper, with or without cayenne Chomper is safe and effective. This potent formula was developed almost by accident. While camping in the Sierra Nevada Mountains on an "herbal expedition" in the 1980s, Richard Anderson discovered that the combination of local herbs he was making into "wild salads" had an usual effect. It loosened, thus allowing for the release of hardened "mucoid plaque" from his intestinal tract! Upon his return to civilization, he developed the foundation formulas Chomper and Herbal Nutrition; the key components of Arise & Shine's Cleanse 14 and Cleanse 28 cleansing programs!
Passes the test of time!
Chomper and Herbal Nutrition stand the test of time. Now more than 35 years later, thousands of people around the world continue to enjoy the benefits of Cleansing! Chomper with or without Cayenne works synergistically with Herbal Nutrition to soften and break up accumulated waste material in the intestinal tract.* When used as directed, Chomper contributes to overall digestive system detoxification and may also support bowel regularity.*
Optimal Results
For optimal results always use Chomper and Herbal Nutrition together. Special Comments: Not recommended for pregnant or lactating women. Some individuals are sensitive to Cascara Sagrada and/or Rhubarb Root. If you experiences severe diarrhea or cramping, discontinue or cut back on usage. You might also consider Chomper Aid which does not contain Cascara Sagrada.  No one should experience severe nausea while taking Chomper or any other Arise & Shine product. See our Cleanse Guide for suggested intake while cleansing.
Product Reviews
Chomper with Cayenne Reviews
Arise & Shine
Related Products